The FEM Intralogistics System Product Group's Board members elected a new President in January 2021.
Dr. Max Winkler, Executive of the KION CTO organization and Product Development lead in Dematic, brings a wealth of 20 years of experience in the intralogistics industry. His various roles in Business Development, Quality, Manufacturing, R&D and Product Design cover all the aspects of intralogistics systems' multifaceted world. "I am looking forward to working together with my colleagues in the Product Group for stimulating innovation and technical development in our ever-expanding sector" said Max Winkler upon his election. "Our Product Group will also actively support FEM central in ensuring a constructive European regulatory framework for the material handling manufacturers" he added.
Max Winkler succeeds Jan van der Velden (Vanderlande), who stepped down after many years of active engagement in FEM Intralogistics Systems Product Group.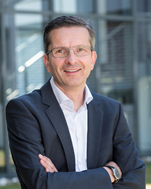 The new President will be aided in his functions by a Vice-President, Andreas Koch, Head of Standard Solutions at SSI Schäfer.